Aptos Reaches New ATH Amid Rising DeFi Activities
Layer 1 blockchain network Aptos' native token APT reached a new all-time high of $14.18 during the early trading hours of Jan. 22 after surging by over 200% since the beginning of 2023. According to CoinMarketCap, APT has been one of the best-performing digital assets in the current market rally, outperforming more seasoned rivals like […]
Don't got time to read? Listen it & multi task
Layer 1 blockchain network Aptos' native token APT reached a new all-time high of $14.18 during the early trading hours of Jan. 22 after surging by over 200% since the beginning of 2023.
According to CoinMarketCap, APT has been one of the best-performing digital assets in the current market rally, outperforming more seasoned rivals like Ethereum, Bitcoin, and others. For context, APT rose by 79% in the last seven days, while BTC and ETH only increased by 10% and 6%, respectively.
Users Transactions Spike on Aptos Blockchain
After launching to much criticism, users' transactions on Aptos have increased by more than 100% in the last 30 days. According to available data, the blockchain processed 83,675 transactions as of Dec. 23, but that number jumped to 173,627 by Jan. 21.
The data also shows that new account creation on the network has been steady. As of Dec. 23, 10,248 new accounts were created. The number increased to 11,500 as of Jan. 3 but dropped to 8,024 by Jan. 21. However, the number of daily active addresses jumped to 35,742 from 23,065 over the reporting period.
Meanwhile, over 80% of the APT token supply is currently staked. Per Aptos Labs' explorer, the token has a total supply of 1.01 billion, and 839.6 million of these tokens have been staked.
Aptos DeFi TVL Jumps 31%
The total value of assets locked in the Aptos ecosystem has surged by 31% to $55.62 million from $40.82 million recorded on Dec. 1, according to DeFillama data.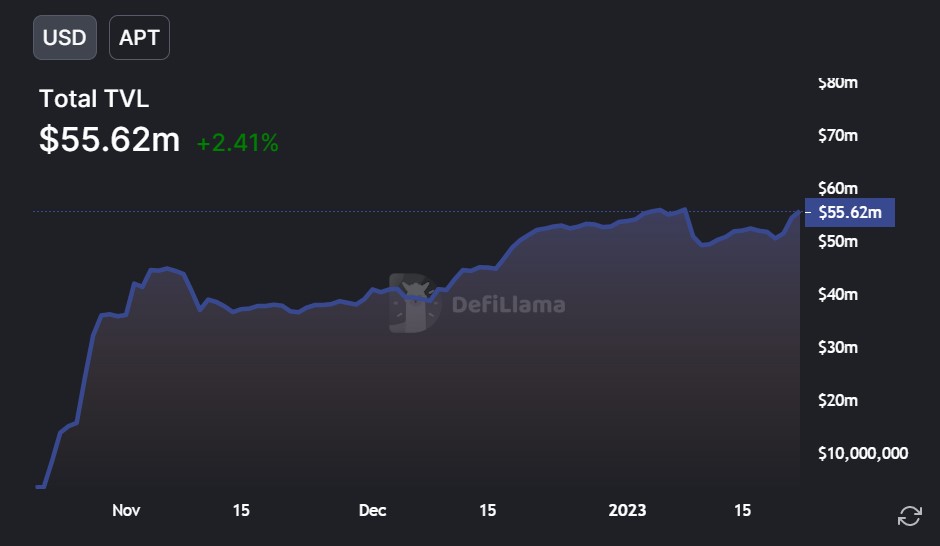 During this period, DeFi activities picked up on Aptos as several projects announced support for the network. On Jan. 6, the leading BNB Chain-based decentralized exchange (DEX) PancakeSwap deployed to the blockchain. Since then, the DEX has dominated Aptos' TVL, accounting for 59% of the network's total TVL.
Meanwhile, other DeFi protocols on the network, like AUX Exchange, Tortuga, Ditto, ABEL Finance, etc., have all recorded an uptick in their TVL during the same period.
More recently, crypto exchange Binance on Jan. 20 opened new liquidity pools for Aptos in its Liquid Swap offering. The move led to an uptick in the trading volume of its APT/BTC and APT/USDT trading pairs.
It should be added that NFT activities on Aptos have also increased. Topaz data shows that the sales volume of the top 3 NFT collections on the network spiked by over 60% in the last 24 hours. The collections included Aptomingos, Aptos Monkey, and Bruh Bears.
The post Aptos Reaches New ATH Amid Rising DeFi Activities appeared first on BeInCrypto.