Crypto Winter Freezes Sports Sponsorship Deals in 2023
Crypto winter(s) can have multiple market repercussions for retailers and institutions. This article focuses on how the crypto winter is impacting sports sponsorships and advertisement deals.  Crypto companies increasingly invested in sports sponsorships and advertising to promote their brand and products. The growth of the cryptocurrency industry and the increasing mainstream acceptance of digital assets […]
Don't got time to read? Listen it & multi task
Crypto winter(s) can have multiple market repercussions for retailers and institutions. This article focuses on how the crypto winter is impacting sports sponsorships and advertisement deals. 
Crypto companies increasingly invested in sports sponsorships and advertising to promote their brand and products. The growth of the cryptocurrency industry and the increasing mainstream acceptance of digital assets has fueled this trend.
Crypto companies have sponsored various sports events and teams, including football clubs, basketball, and car racing. Some examples of sponsorships across different genres that created advertising waves for crypto are mentioned below.
Big Crypto Deals in the Past Years 
Cryptocurrency brands helped the National Basketball Association (NBA) rake in $1.64 billion in annual sponsorship fees for the 2021-2022 season. According to a report, this represented a year-over-year (YoY) rise of 12.50%.
Five brands – Crypto.com, Webull, Coinbase, FTX, and Socios – are responsible for 92% of the cryptocurrency sector spending in the NBA. Inclusive of some of the most high-profile inventory in the league as naming and jersey patch sponsorship. 
Crypto.com won the naming rights for the Los Angeles Lakers home arena in a deal reportedly worth $700 million over 20 years. Additionally, crypto played a part as nine new jersey patch sponsors, including the Philadelphia 76ers' deal with Crypto.com, worth more than $10 million a year.
Renowned teams even integrated digital currencies into payment systems. In 2021, the NBA's Dallas Mavericks announced that they would accept Dogecoin as payment for tickets and merchandise. The team's owner, Mark Cuban, is a vocal supporter of cryptocurrencies. 
Other Sports Rode the Same Bandwagon
In 2020, the English Premier League football club Southampton signed a sponsorship deal with the cryptocurrency betting platform Sportsbet.io. In 2019, the Formula 1 racing team Red Bull Racing partnered with the cryptocurrency company FuturoCoin. Other groups like Ferrari and Mercedes collaborated with Velas blockchain and FTX. 
In addition to sports sponsorships, crypto companies have invested in advertising through sports media. For example, during the 2022 Super Bowl, the crypto exchange platform FTX ran a commercial featuring NFL stars Tom Brady and Patrick Mahomes.
There were Super Bowl ads, an arena, and celebrity endorsements. TV commercials landed during the nightly news.
Crypto companies were spending anywhere and everywhere. In fact, through Oct. 2022, crypto-related brands shelled out $223 million on ads in the U.S. This was up 150% from $89 million for all of 2021, according to MediaRadar.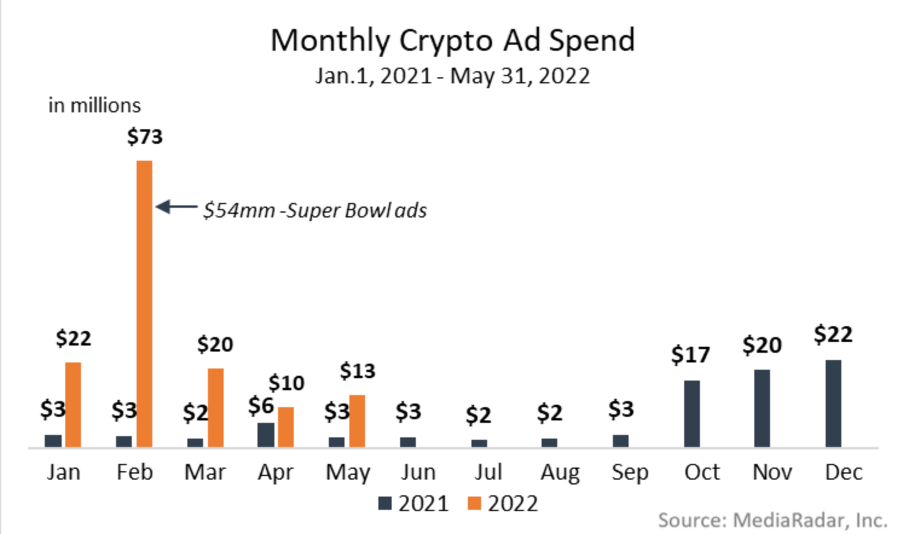 The sports industry has become an essential target for crypto companies as they seek to reach new audiences and promote their products. 
2022: The Year of Multiple Collapses
Many of the multiple collapses within the crypto domain have already been covered. The latest was the FTX collapse, one of the largest crypto exchanges. Given the severe contagion effect, the industry witnessed a significant market capitalization fall below the $1 trillion mark. 
The so-called 'crypto winter' coupled with a broader economic downturn, which is seeing the cost of living rise as inflation soars, injected much fear within the domain. Crypto institutions like Coinbase, Crypto.com, and Binance suffered.  Senior executives scrutinized advertising spending in that setting, making securing marketing dollars more challenging.
In the third quarter of last year, the top crypto advertisers spent just $35 million on ads, according to MediaRadar. This accounted for an 80% drop from the first quarter, which got a massive boost from the country's biggest sporting event — the Super Bowl. 
Grant Harbin, CEO of performance marketing firm Headlight speaking to BeInCrypto, stated: 
"Crypto winter is a crypto advertising winter. There's probably very little consideration on scaling advertising budgets right now."
The adverse market conditions saw multiple crypto cohorts pulling back their marketing budget.
No Crypto Name Sighted 
Starting the Super Bowl in 2023, termed Super Bowl LVII, saw a completely different scenario. As BeInCrypto covered, the majority of the sporting event's ads came from alcohol and food companies.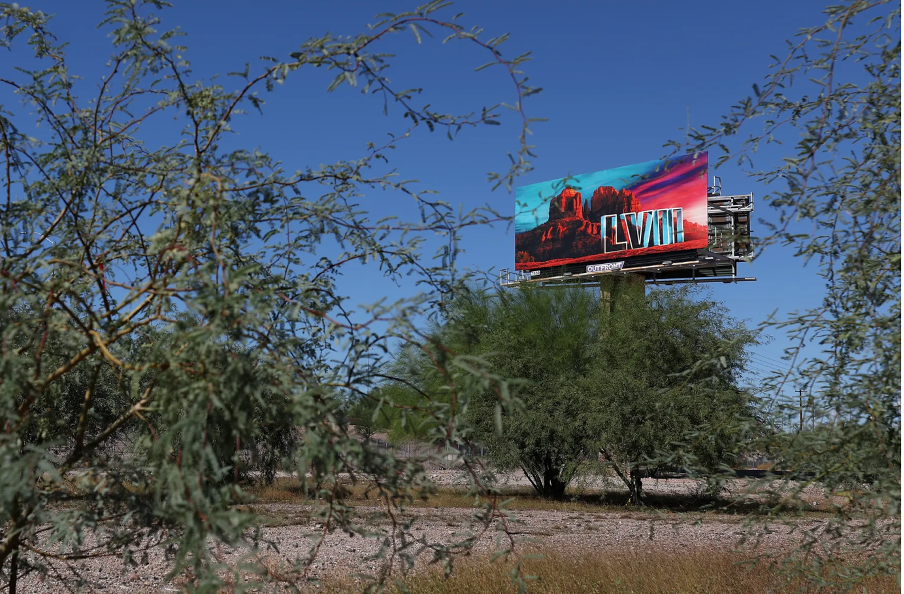 Other events, too, witnessed the same scene where the big names in the crypto domain went missing. For instance, the Formula One event. A very different picture emerged as the team disclosed their 2023 cars at this season's debut race last weekend. While all the teams had at least one crypto sponsor the previous year, that figure is now down to 60% — and it looks likely to fall further.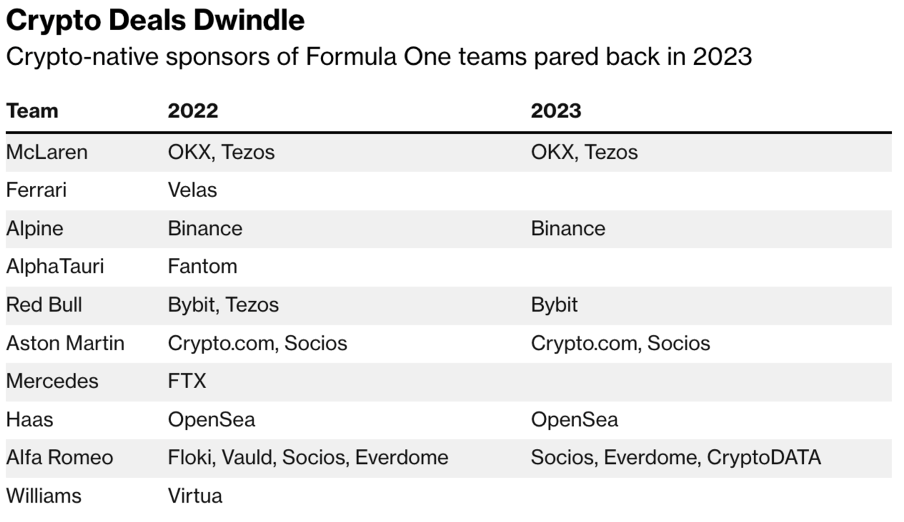 Big names such as Mercedes, representing seven-time world champion Lewis Hamilton were the first to remove (collapsed) FTX's sponsorship. Mercedes may have a claim in FTX's bankruptcy process, filings show, and going into 2023, it has no other crypto-native sponsors.
Notably, Ferrari parted ways from a multi-year partnership with Velas Blockchain. Similarly, the Red Bull racing team ended its relationship with Tezos. 
The major bankruptcies and crashes of 2022 have put an ominous shadow on our industry. Sponsorship expense varies from one team to another, depending on the size. Per a researcher, the cost would range from $500k to $750K for smaller companies to millions for more giant corporations. 
"With token prices down so much, it's no wonder some crypto companies are backing down."
Countries such as Singapore have even banned crypto ads altogether.
Putting a Stop to Advertising Can Affect a Brand
Whether in the crypto domain or the traditional sector, groups take a hit when they halt their advertising spree. Brands can face sales problems when they stop advertising.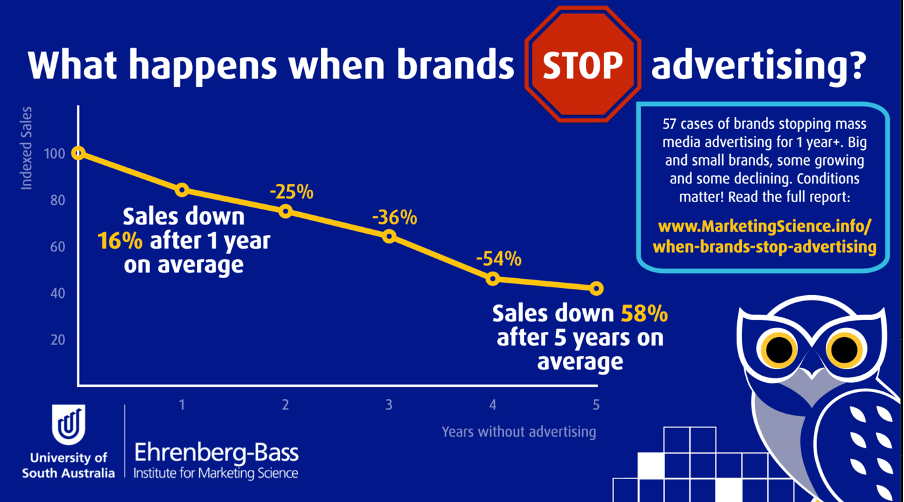 Advertising is critical in creating awareness, building brand recognition, and shaping consumer perceptions of a product or service. When a brand stops advertising, it risks losing visibility and top-of-mind awareness among consumers.
With advertising, a brand may maintain its market position and compete against other brands that continue to advertise. Over time, consumers may forget about the brand or lose interest in its products or services. This can result in declining sales and market share. Moreover, stopping advertising can also impact a brand's reputation and image. 
If a brand suddenly contains advertising, it may be seen as less stable, prosperous, or committed to its customers. This can create a negative brand perception and undermine its appeal to consumers. In short, while other factors can impact a brand's sales, stopping advertising can undoubtedly lead to sales problems and other negative consequences.
The post Crypto Winter Freezes Sports Sponsorship Deals in 2023 appeared first on BeInCrypto.