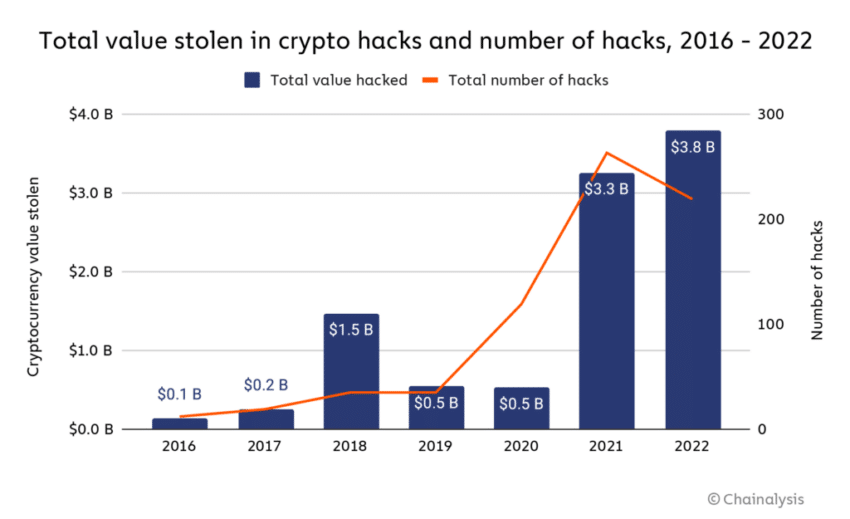 Elliptic Details Evolution of 'Crypto Crime Displacement' in Latest Research
The crypto ecosystem is constantly changing, and a new form of malfeasance has emerged: cross-chain crime. This criminal method, which involves swapping crypto assets within and across blockchains to obscure their trail, has seen a significant surge parallel to the rise of decentralized finance in 2021.  Elliptic, a leading authority in tracking crypto crime trends, […]
Don't got time to read? Listen it & multi task
The crypto ecosystem is constantly changing, and a new form of malfeasance has emerged: cross-chain crime. This criminal method, which involves swapping crypto assets within and across blockchains to obscure their trail, has seen a significant surge parallel to the rise of decentralized finance in 2021. 
Elliptic, a leading authority in tracking crypto crime trends, recently detailed this evolution in its latest research.
Crypto Crime Constantly Evolving
The report highlights the increasing resort to cross-chain crime by criminals, driven by the ability to launder lesser-known crypto assets without requiring identity verification. In 2022 alone, an alarming $4 billion of illicit cryptocurrencies were laundered using cross-chain or cross-asset swapping methods, a figure that's rising ahead of projections.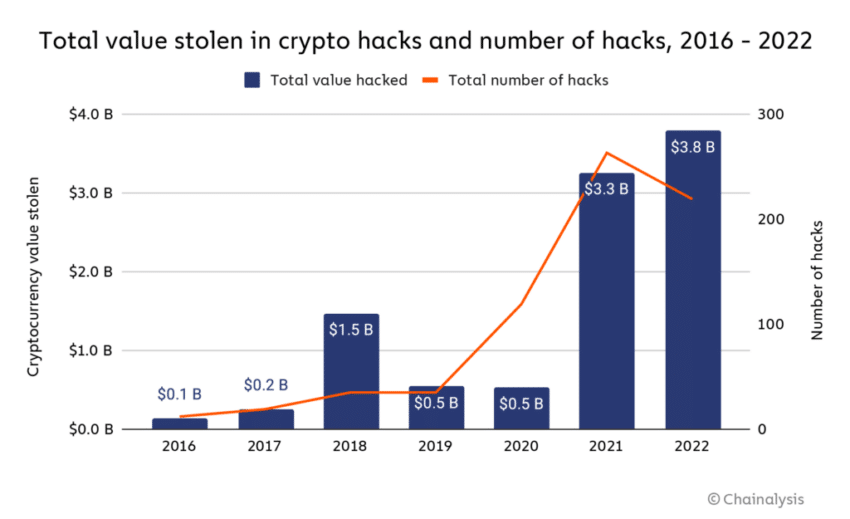 The report states,
"Cross-chain crime – which denotes the often-anonymous swapping of cryptoassets within and across blockchains to obfuscate their trail – has increased rapidly since the rise of decentralized finance (DeFi) in 2021."
Read more: Identifying & Exploring Risk on DeFi Lending Protocols
The report also underscores the phenomenon of "crime displacement," where criminals adjust their tactics in response to preventative measures.
This trend is particularly rampant in the crypto ecosystem, as demonstrated by the Lazarus Group, North Korea's state-backed cyberhacking organization. Previously using the decentralized mixer Tornado Cash for laundering the proceeds of their crypto heists, the group shifted to Avalanche Bridge after US sanctions against Tornado Cash in August 2022.
Bad Actors Are Mixing in 'Cross-Chain' Tactics
The report further explains the reasons behind the growing preference for cross-chain crime. Firstly, crypto crime proceeds are increasingly being generated in lesser-known crypto assets, exchangeable only through cross-chain or cross-asset services.
Secondly, these services, including decentralized exchanges (DEXs), cross-chain bridges, and coin swap services, do not require identity verification.
Lastly, criminals are cognizant that traditional blockchain analytics solutions lack the capability to trace illicit activity across blockchains or tokens effectively.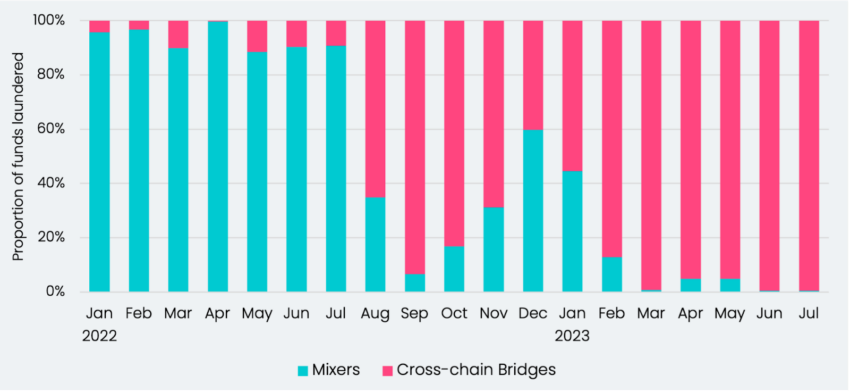 The report also revealed that,
"Compared to other trends in crypto, the advent of cross-chain crime is a relatively new but fast-growing one."
This growing trend of cross-chain crime has broader implications, as demonstrated by the recent $41 million security exploit of the crypto betting platform Stake. The incident underscores the vulnerabilities of crypto platforms and raises questions about the stability and security of online crypto platforms.
This could potentially catalyze more stringent oversight from regulators, further emphasizing the need for solutions to combat the rising tide of cross-chain crime.
Disclaimer
In adherence to the Trust Project guidelines, BeInCrypto is committed to unbiased, transparent reporting. This news article aims to provide accurate, timely information. However, readers are advised to verify facts independently and consult with a professional before making any decisions based on this content.
This article was initially compiled by an advanced AI, engineered to extract, analyze, and organize information from a broad array of sources. It operates devoid of personal beliefs, emotions, or biases, providing data-centric content. To ensure its relevance, accuracy, and adherence to BeInCrypto's editorial standards, a human editor meticulously reviewed, edited, and approved the article for publication.
The post Elliptic Details Evolution of 'Crypto Crime Displacement' in Latest Research appeared first on BeInCrypto.