Regulators Caution Crypto Custodians Over 'Commingled' User Funds
The crypto sector continues to clash heads with regulators over stringent regulatory measures. This time, the topic of discussion is the commingling of users' funds locked in crypto custodians. Regulators are trying to reach the middle ground to make the space safer.  As the crypto space attracts more investors, regulators are beginning to hone in on […]
Don't got time to read? Listen it & multi task
The crypto sector continues to clash heads with regulators over stringent regulatory measures. This time, the topic of discussion is the commingling of users' funds locked in crypto custodians. Regulators are trying to reach the middle ground to make the space safer. 
As the crypto space attracts more investors, regulators are beginning to hone in on refining consumer protection laws. United States consumer protection laws are mostly regulated at the state level. However, this will likely change soon.
Now, federal agencies such as the Consumer Financial Protection Bureau (CFPB) and the New York Department of Financial Services (NYDFS) are starting to weigh in on regulatory policies designed to keep consumers better protected and informed. However, this is too little too late for the multitudes of customers that have lost their money due to the shady practices of crypto firms in the past year.
Crypto Custodians Caused Chaos
One of these shady practices in particular that led to these losses was the comingling of users' funds held by crypto custodians. When things started to go south and custodians found themselves insolvent, customer funds became inaccessible. Silvergate, a leading crypto bank, was sued by investors for doing exactly this following the fall of the FTX exchange. The contagion effect that followed then spread to other major firms.
Crypto exchange Gemini lent $900 million worth of users' funds to in-trouble firm Genesis Capital to leverage its Earn program. Now, Cameron Winklevoss has accused the owner of the Digital Currency Group of commingling funds and not being able to repay any of the money to Gemini due to being illiquid. Now, Binance, the largest crypto exchange, is facing the same scrutiny. It was revealed that the exchange mixed $1.30 billion of customers' funds with its B-tokens.
In traditional financial markets, this is considered a breach of trust. FTX CEO John Ray previously testified before the U.S. Congress that FTX and its sister trading firm Alameda Research ran commingled accounts. Regulatory watchdogs are giving severe warnings about this practice.
One such government body is the New York Department of Financial Services (NYDFS), which touched on these points in a recent press release shared with BeInCrypto. 
Customer protection guidance
NYDFS superintendent Adrienne Harris suggested measures to protect users' funds against practices like the commingling of funds by crypto custody firms. Herein, the NYDFS published regulatory guidance for sound custody and disclosures for crypto custody firms:
'As stewards of others' assets, virtual currency entities that act as custodians, including, without limitation, storing, holding, or maintaining custody or control of virtual currency on behalf of others, must have robust processes in place, akin to traditional financial service providers,' she added. 
Crypto custodians must follow the same accounting measures undertaken by traditional finance counterparts: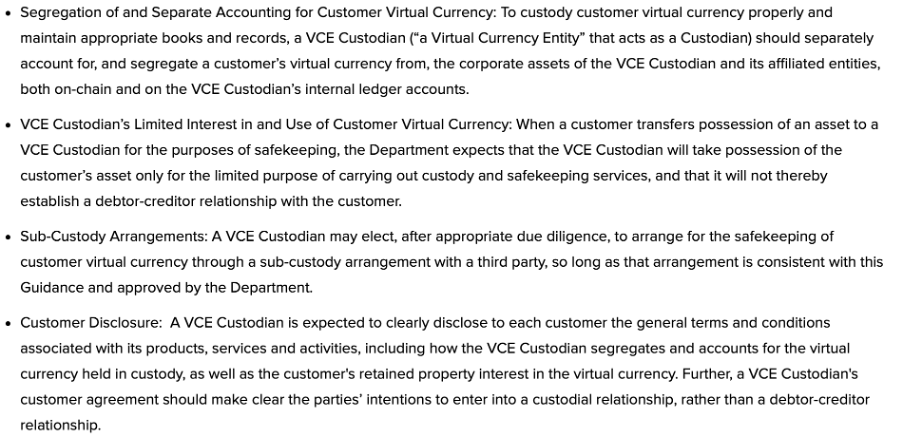 Investor Protection is Key 
These steps, once incorporated, can lead to a safe and transparent route for users to invest safely in the crypto space. Good consumer protection policies and protocols can help crypto-specific businesses and clients protect themselves and give a competitive edge in building customer trust, brand loyalty, and a solid reputation.
Disclosures are all about transparency and providing customers with the information they need. Mainly to determine whether or not they want to do business with a specific company. One of the most common examples is the terms of service documents. These disclosures should include specifics on how a company handles data collection, privacy policies, transaction fees, and anti-money laundering and know-your-customer compliance policies.
Investing in cryptocurrency is not without its risks. A reasonable consumer protection policy will help ensure that this is something that its customers fully understand. Notice of risk refers to businesses' steps to inform customers of the potential risks associated with buying, holding, selling, and otherwise transacting with cryptocurrency. A crypto risk notice can cover everything from the inherent volatility of cryptocurrencies to their potential allure for financial criminals. 
Making a Safer Crypto Space
Risk notices are also a chance to alert customers to common crypto scams. This includes, but is not limited to, IRS, social security, romance, and elder financial exploitation scams. Customers should also understand that crypto transactions are irreversible and still largely unregulated compared to traditional financial institutions. 
Lastly, complaint remediation—ensuring someone is available to receive and address customer complaints in a timely fashion. Due to the unique nature of the crypto space, a company's reputation for customer service can be the deciding factor for many potential clients.
The emphasis on cryptocurrency consumer protection will only likely increase in the coming years. But at the same time, too many regulations could hinder innovation and the decentralized nature of the crypto space. 
The post Regulators Caution Crypto Custodians Over 'Commingled' User Funds appeared first on BeInCrypto.