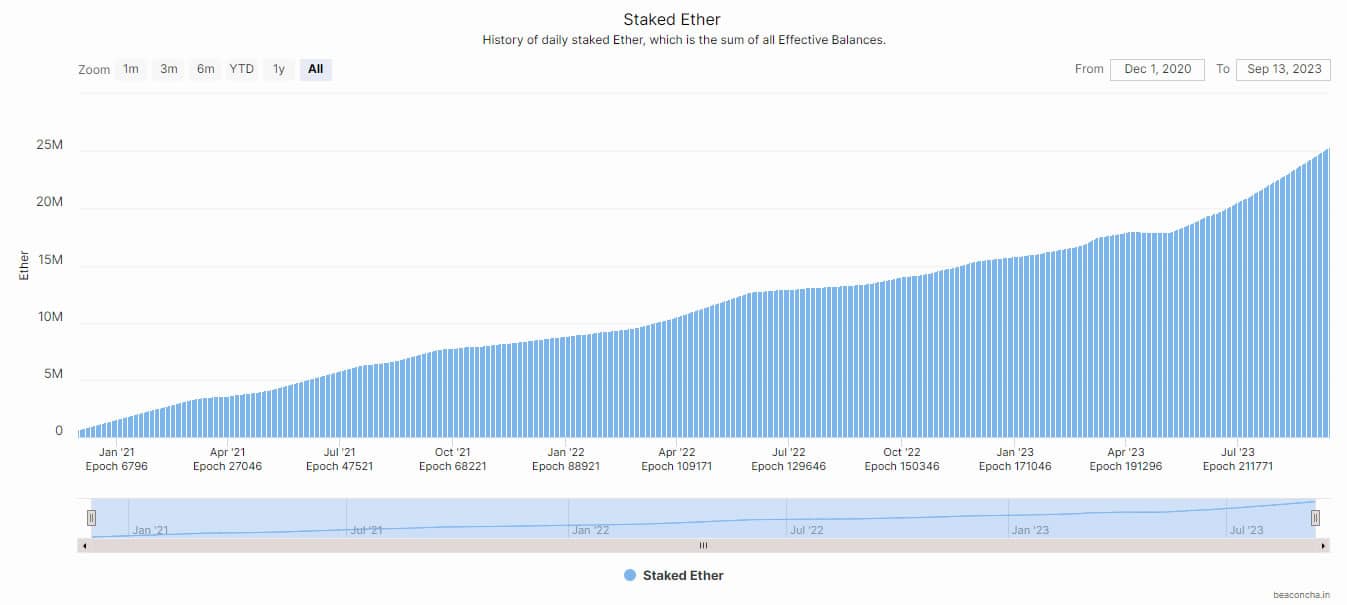 Ethereum Dencun Upgrade Proposal to Slow Down Growth of ETH Staking Rate
An upcoming upgrade to the Ethereum ecosystem will introduce a mechanism to adjust the network staking rate, according to developers. Moreover, growing concern suggests that staking too much ETH will impact its economic environment. On September 14, Ethereum core developers concluded another meeting which addressed additions to an upcoming upgrade.  Slowing Down Ethereum Staking The […]
Don't got time to read? Listen it & multi task
An upcoming upgrade to the Ethereum ecosystem will introduce a mechanism to adjust the network staking rate, according to developers. Moreover, growing concern suggests that staking too much ETH will impact its economic environment.
On September 14, Ethereum core developers concluded another meeting which addressed additions to an upcoming upgrade. 
Slowing Down Ethereum Staking
The Ethereum Cancun-Deneb, also known as Dencun, is a forthcoming upgrade to the network, slated for late October 2023. 
The upgrade is split into two parts: Deneb, which focuses on the Consensus Layer, and Cancun, which targets the Execution Layer.
Additionally, a proposal called EIP-7514 has been included in the upgrade. This will modify the 'churn limit' function to upper bound it to a maximum value.
The churn limit regulates the number of validators allowed to join or exit the network within a specific timeframe. Developers are discussing reducing the churn limit to give them more time to deal with the economic and technical consequences of liquid staking.
"This proposal aims to mitigate the negative externalities of very high level of total ETH supply staked before a proper solution is implemented."
Core developer Tim Beiko, who provided a rundown of the developer call, commented: 
"In short, this would slow down the rate at which the percent of ETH stake grows in the worst case."
In addition, developer Dankrad Feist said it is currently unclear if liquid staking will keep growing indefinitely,
"The lower churn limit will give the Ethereum community the time needed to research, debate, and implement solutions, rather than having to scramble at the last minute to contain the fallout."
"Without lowering the churn limit now, it's well possible that very drastic action will become necessary down the line," he cautioned. 
ETH Staking Outlook 
The upgrade also includes EIP-4844, a pivotal feature called Proto-Danksharding. This is a transitional phase towards full Danksharding. Moreover, by utilizing data "blobs," developers expect the upgrade to significantly reduce gas fees and increase transaction throughput.
Furthermore, the validator activation queue has remained constantly full since the introduction of ETH withdrawals in April.
Ethereum liquid staking has taken off. Additionally, Lido is dominating the ecosystem, having around a third of all staked ETH.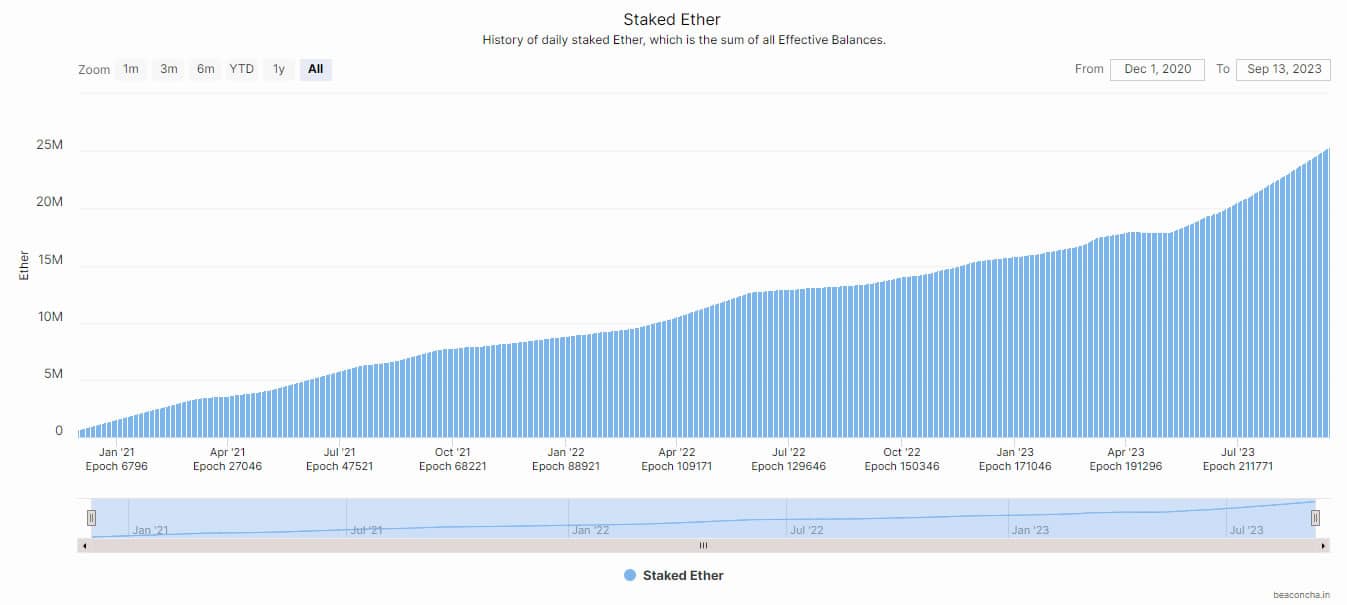 According to Beaconcha.in there are currently 25.4 million ETH staked. At current prices, this is valued at around $41.5 billion.
The post Ethereum Dencun Upgrade Proposal to Slow Down Growth of ETH Staking Rate appeared first on BeInCrypto.