President Bukele calls the latest Bitcoin (BTC) protest in El Salvador a failure
El Salvador's President Bukele responded to the weekend's Bitcoin protest, calling it a failure while also downplaying the numbers involved. Ever since announcing a dual Bitcoin-dollar currency system, a segment of the population has voiced its opposition. Referring to President Bukele's insistence to press ahead regardless, they say El Salvador is now a "dictatorship." President […]
Don't got time to read? Listen it & multi task
El Salvador's President Bukele responded to the weekend's Bitcoin protest, calling it a failure while also downplaying the numbers involved.
Ever since announcing a dual Bitcoin-dollar currency system, a segment of the population has voiced its opposition. Referring to President Bukele's insistence to press ahead regardless, they say El Salvador is now a "dictatorship."
President Bukele hit back at the accusations by jokingly changing his Twitter bio to read "Emperor of El Salvador."
The right-wing Nationalist Republican Alliance (ARENA) party has jumped on the protests in a bid to score political points. However, this hasn't fazed President Bukele, who remains dedicated to supporting Bitcoin as legal tender.
The protests continue
Since becoming legal tender in El Salvador on September 7, protestors have become increasingly violent in their opposition to Bitcoin. On Sunday, ugly scenes saw thousands of protestors march through the capital, San Salvador.
Local media outlets estimate around 4,000 people took part. They carried banners and chanted, "What does El Salvador want? Get rid of the dictator!" Protestors also burnt an effigy of the President.
Deputy of El Salvador Carlos Bruch was quick to slate the protests by calling out ARENA's role in stoking the violence.
The ruling New Ideas party also joined in by pointing out the comparatively small number of protestors against those in favor of the President. They also took the opportunity to say the people will never allow the opposition party to return to power.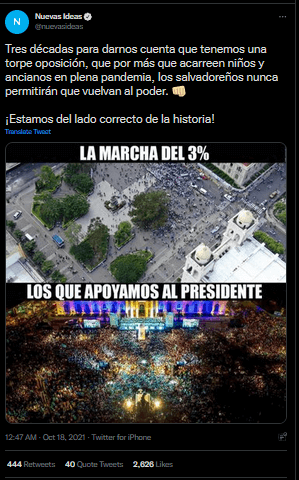 "Three decades to realize that we have a clumsy opposition, that no matter how much they carry children and the elderly in the middle of the pandemic, Salvadorans will never allow them to return to power.

We are on the right side of history!"
President Bukele called the march a failure, adding that "nobody believes them anymore."
Bitcoin just posted its highest-ever weekly close
Meanwhile, Bitcoin has been readying up after breaking $60,000 resistance last Friday.
The weekend also saw $BTC post its highest-ever weekly close at $61,500, strengthening bullish sentiment for a break of its previous all-time high.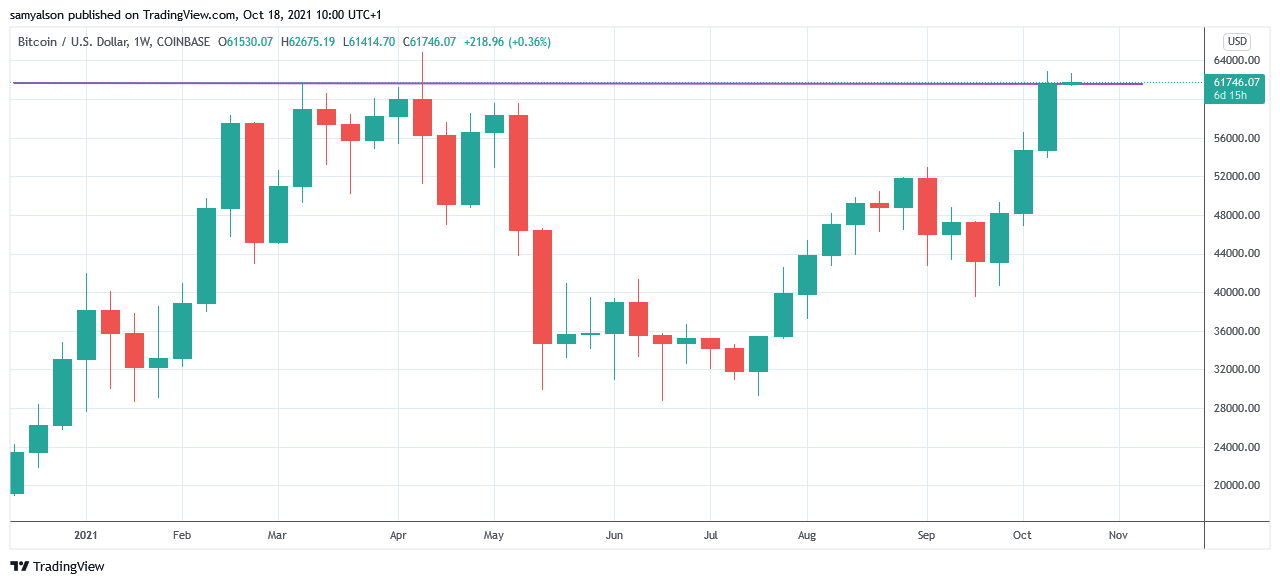 Since becoming legal tender in El Salvador, Bitcoin has appreciated 30% in value. This goes some way in offsetting the protestor's concerns about extreme volatility (to the downside), effectively "stealing" money from the poor.
However, President Bukele is still gambling on Bitcoin staying at least above $50k, which is a massive risk to take in the long term, post bull run.
As @rektcapital states, we saw a -53% dip months ago, and average bear markets see -85% corrections.
Given that all markets move cyclically, El Salvador could be in for an escalation of violence when the bear market comes.
The post President Bukele calls the latest Bitcoin (BTC) protest in El Salvador a failure appeared first on CryptoSlate.